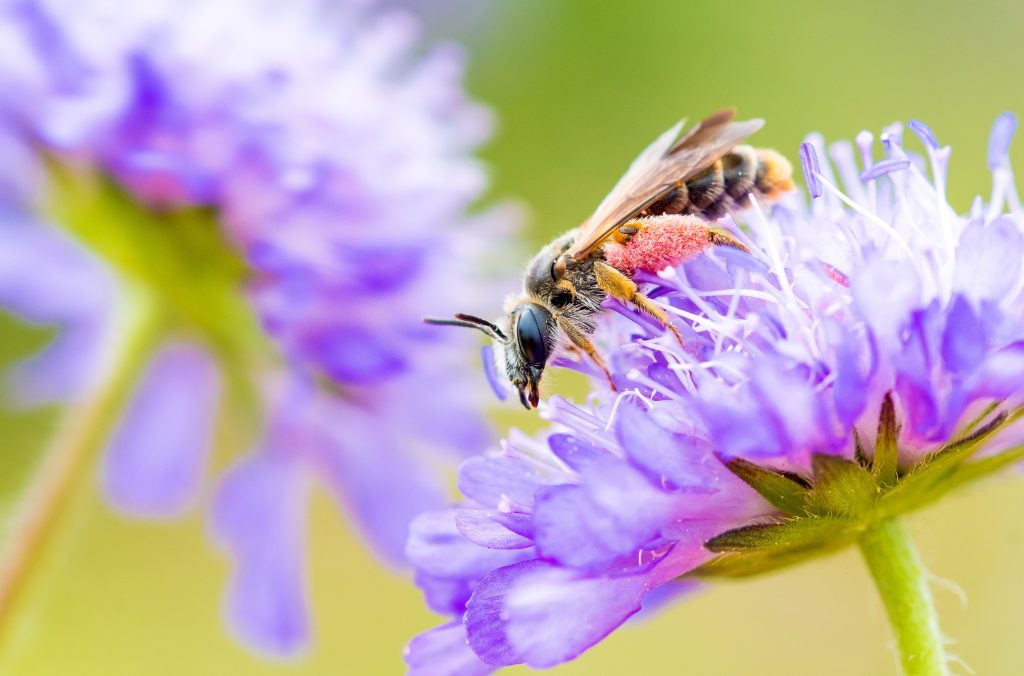 Invertebrate conservation charity Buglife is delighted to announce the discovery of two new populations of one of Cornwall's most threatened bee species.  A second nationally scarce species of bee has also been recorded in Cornwall for the first time in almost 20 years.  
The Large Scabious Mining Bee (Andrena hattorfiana), previously known from only four areas in Cornwall, has been found at two new sites for its species, one near The Towans, and one near Rock.  In addition to this a new site, also near the Towans, has been identified for another nationally scarce solitary bee – the Red Bartsia Bee (Melitta tricincta).  The discoveries were made by local entomologist Paddy Saunders, as a part of Buglife's North Cornwall B-Lines project.
Paddy Saunders, Kernow Ecology, shared: "I was really blown away to find new populations of both the Red Bartsia Bee and the Large Scabious Mining Bee. The finds were unexpected as on one new site the Large Scabious Mining Bee was last recorded almost 40 years ago, and the Red Bartsia Bee has not been recorded at all in Cornwall for almost 20 years! This gives great hope that it is possible keep these beautiful creatures in Cornwall but underlines the urgency and importance of the North Cornwall B-Lines project".
Buglife's North Cornwall B-Lines project has been working with landowners and communities along the north Cornwall coast; restoring species-rich grassland to benefit pollinating insects, and to help safeguard the future of some of the county's most rare and threatened bee species.
The project has worked with local landowners to bring more wildflowers back to the Cornish countryside, and through a strong partnership with the National Trust has harvested and sown over 80kg Cornish wildflower-rich grassland seed.
The project has also focused on creating more habitat for one of the county's most threatened bee species, the Large Scabious Mining Bee; one of approximately 250 species of solitary bee found in the UK. Unlike honeybees and bumblebees, solitary bees each build their own nests and do not have a queen. They often nest in places like old walls, sandy banks, short grass or bare soil and every species of solitary bee will visit different flowers and nest in different places.
The Large Scabious Mining Bee only collects pollen from Field Scabious flowers. In Cornwall these plants are generally restricted to areas around sand dune systems and will not grow in much of the county as the soil is too acidic.
Laura Larkin, Conservation Officer at Buglife explains: "We've worked very closely with the National Trust and other local landowners to harvest and sow a fantastic amount of Cornish wildflower seed, which will create some beautiful new wildflower meadows along the north coast. We've also worked with some local nurseries to grow on thousands of Field Scabious plug plants. These will be planted out in areas near to existing Large Scabious Mining Bee populations, which will increase the amount of habitat available to the bees and help these often-fragile bee populations survive into the future.  The discovery of new populations of one of the projects key bee species and a new species for Cornwall is inspiring and a testament to the project team, partners and communities who have supported our work"
To celebrate the success of the North Cornwall B-Lines project so far, Buglife has created a short film with local video production company Here Now Films. This film showcases some of the work undertaken through the project. The film can be viewed below.
Nick Holden from the National Trust says: "Working in partnership with Buglife has given us vital specialist knowledge about rare and threatened bee species. We are very excited and determined that the B-Lines project will help to restore and improve important habitats within our ownership long into the future".
Scarlett Weston, Buglife's Conservation Assistant added: "It's lovely to see the habitat creation we are doing for Cornwall's threatened bees captured so artistically, I think the film does a fantastic job of portraying why we all believe in this project. It not only highlights the work we are doing for pollinators here in North Cornwall, but the reason why creating more habitat for pollinators is so important on a larger scale."
For more information about B-Lines, and to add your own wildflower areas to our B-Lines network, please visit the Buglife website.
---
North Cornwall B-Lines ~ Creating Pathways for Pollinators |
North Cornwall B-Lines project is working with local landowners and communities to help threatened bee species by creating or enhancing 20 hectares of flower-rich habitat along the North Cornwall coast.
The North Cornwall B-Lines project is funded by the Government's Green Recovery Challenge Fund.  The fund was developed by Defra and its Arm's-Length Bodies.  It is being delivered by The National Lottery Heritage Fund in partnership with Natural England, the Environment Agency and Forestry Commission.