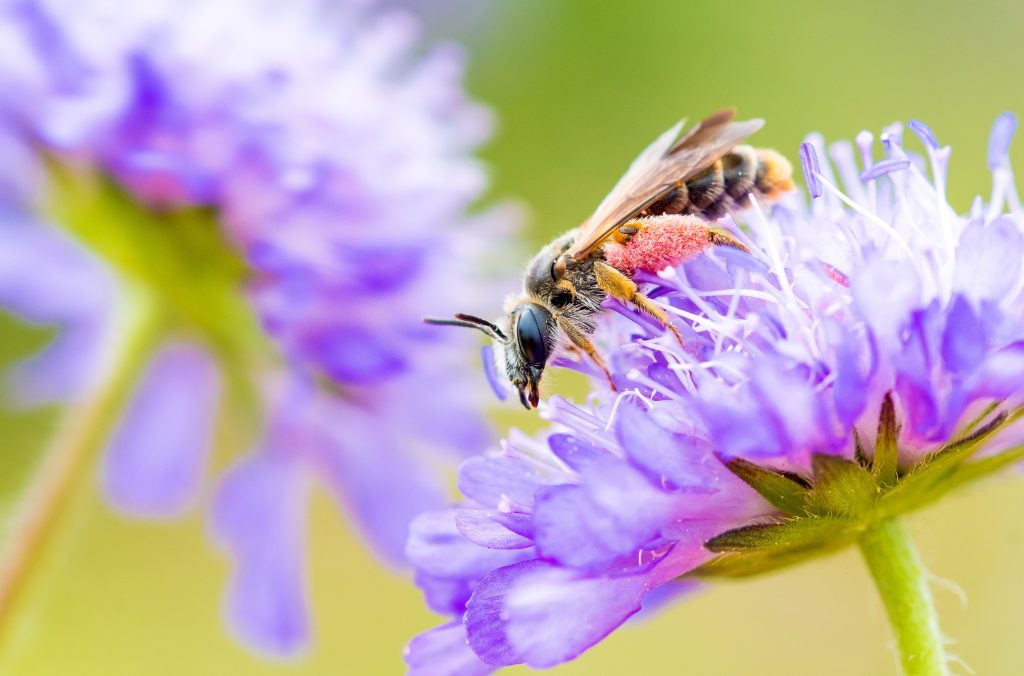 A fantastic project is underway along the North Cornwall coast. North Cornwall B-Lines – Creating Pathways for Pollinators is helping Cornwall's threatened bee species by creating or enhancing 20 hectares of flower-rich habitat along the North Cornwall coast.  Working with local landowners and communities, helping to raise awareness of and create more habitat for pollinating insects, including for some of Cornwall's most threatened bee species.
Bees, butterflies and hoverflies have suffered badly over the last fifty or so years, due to changes in land use as a result of modern farming methods, urban spread and new transport links. Over 97% of all flower-rich grasslands have been lost in England since the 1930s; reducing pollen and nectar sources, leading to a serious decline in the wildlife depending on wildflower-rich habitat.
To reverse these declines, Buglife's B-Lines network has been mapped nationwide and will help to link up wildflower-rich habitat, creating a much-needed flower-rich corridor, enabling our precious pollinators to once again move freely through our countryside.
This habitat will form stepping-stones for wildlife, enabling pollinating insects to colonise new areas and helping to ensure the future of threatened species such as the Large Scabious Mining Bee (Andrena hattorfiana), the Brown-banded Carder Bee (Bombus humilis) and the Buff-banded Mining Bee (Andrena simillima).
The project's work focusses on three keys areas of the North Cornwall B-Line, including around Hayle and The Towans, Perranporth and Cubert, and Trevose and Polzeath and there will be many opportunities for local communities to get involved, helping threatened bees.
Throughout the summer Buglife will be running a series of talks and events along Cornwall's northern coastline; introducing Cornwall's bee species, letting people know how they can help pollinators in their own gardens, encouraging everyone to take action to aid nature's recovery.  Buglife will also be working with local schools; helping the next generation understand the importance of conserving our native wildlife
Laura Larkin, Buglife Conservation Officer said "We're really excited to be running this project in Cornwall and working alongside the local community to help our pollinating insects. There are some very special bee species that can be found along Cornwall's north coast. By working together we can help to encourage these populations to grow and spread to new areas. If you would like some wildflowers to grow in your garden, planter or window box then please join us at one of our events and collect a free packet of seed!".
If you're interested in learning more about Cornwall's rare and threatened bees Buglife will be hosting an online talk, with local entomologist Paddy Saunders, on Wednesday 18th May. To find out more and book your place please visit www.buglife.org.uk/events/