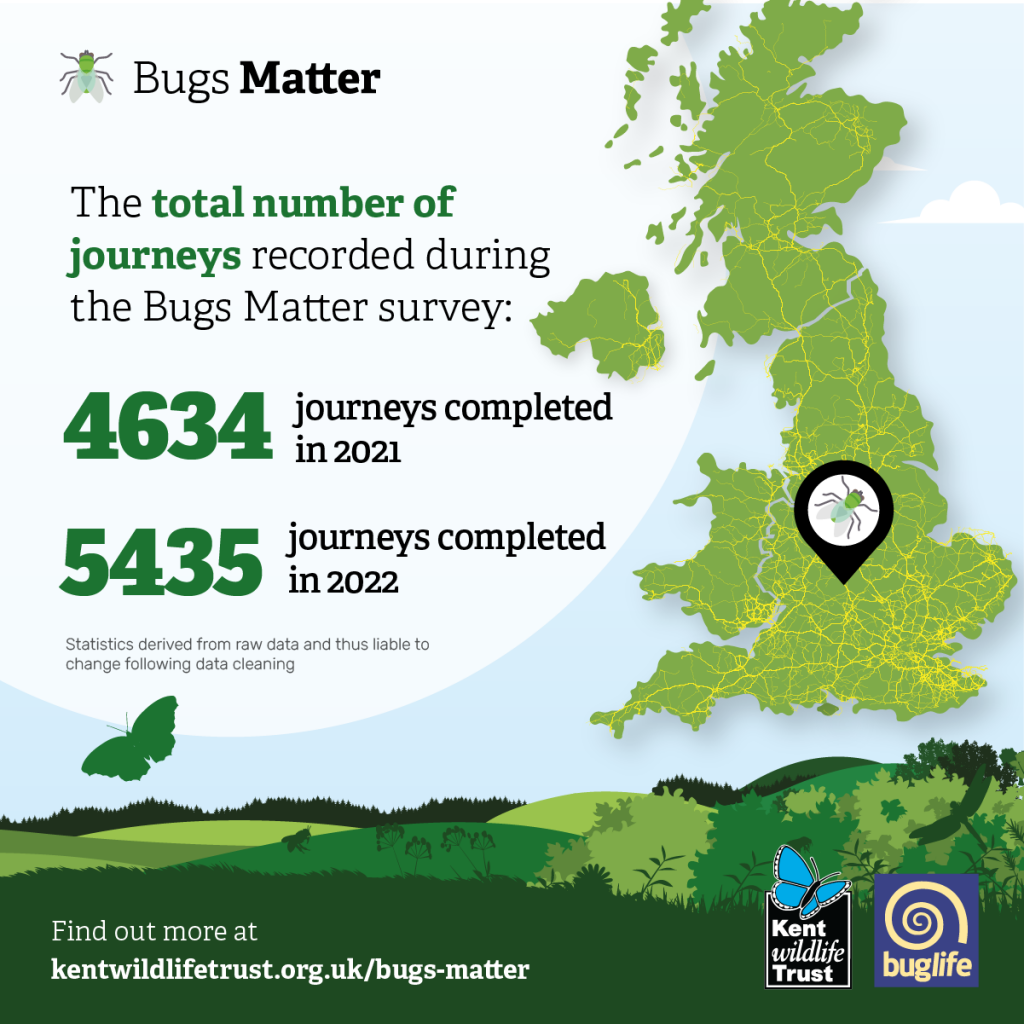 The end of the school summer holidays saw the conclusion of this year's national insect survey, Bugs Matter, on 31 August.  Led by conservation charities Kent Wildlife Trust and Buglife, the annual call to collaborate with citizen scientists across the UK generates crucial data regarding how national insect numbers are faring.  Bugs Matter, based on the "windscreen phenomenon", is one of the UK's few long-term citizen science surveys of flying insect abundance, generating important data.
Participation in this year's Bugs Matter was outstanding, with citizen scientist's collecting data over a staggering 200,283 miles of journeys across England, Northern Ireland, Scotland and Wales.
A total of 660 participants logged an impressive 5,435 journeys via the Bugs Matter app; this compares to a total of 4,634 journeys in 2021.  Data submitted during 2022 ensures that enough information has been collected and recorded to carry out a robust analysis at both county and national level.
England saw the greatest number of journeys being completed (4,290 journeys), followed by Wales (657 journeys), Scotland (372 journeys) and Northern Ireland (114 journeys). Three times more journeys were recorded in Northern Ireland during 2022 compared to 2021, when too few journeys were completed to analyse and draw conclusions.
In 2022, participants recorded an average of 20 journeys each, ranging from short commutes to long-distance road trips. The science team are pleased that journeys of all different lengths have been recorded. Both short and long journeys are valuable for understanding what is happening to insects at a national scale, but shorter journeys are particularly useful for understanding insect numbers at local scales such as within counties.
Andrew Whitehouse from Buglife said: "We are really pleased that so many people have taken part in Bugs Matter this year.  With more data we can improve our understanding of the health of insect populations across the whole of the UK.  Thank you to everyone who got involved and contributed to this vital citizen science survey"
Dr Lawrence Ball from Kent Wildlife Trust said: "The ongoing commitment of citizen scientists to the Bugs Matter survey in 2022, means we have more than doubled the size of the national dataset. Insects are critical to the survival of our planet as we know it – a world without them is a shocking thought indeed. The is why Bugs Matter is so important – it provides a very efficient method to monitor insect populations across huge areas. Thank you to everyone who took part in the survey in 2022, and I hope you continue to contribute to this vital dataset into the future!"
Following on from the shocking results of Bugs Matter 2021, which suggests a 60% decline in the number of insects sampled on vehicle number plates across the UK in less than 20 years, Bugs Matter 2022 data is now being crunched.
The full results will be published in December 2022, after comprehensive analysis of the data has taken place.
---
The "top splatters" of 2022 came from the following five locations:
Spalding and Long Sutton (PE12) with a total of 86 journeys recorded
Newport (NP11) with a total of 70 journeys recorded
Medway (ME13) with a total of 68 journeys recorded
Bromley (BR1) with a total of 64 journeys recorded
Meifod, Powys with a total of 52 journeys recorded