…blog by Claire Pumfrey, Buglife Conservation Officer, and Suzanne Burgess, Buglife Development Manager Scotland and Northern Ireland 
Celebrate this year's National Meadows Day by visiting some fantastic meadows in Central Scotland!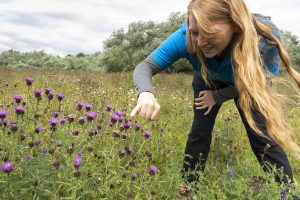 Buglife Scotland have worked with project partners, landowners and communities across Scotland's Central Belt to create and enhance habitat for pollinators and other wildlife. Habitat enhancements have involved the sowing of native and diverse wildflower and grass seed mixes, the planting of bulbs and hedgerows and the creation of bee banks. Through our projects we have enhanced almost 90 hectares of habitat for pollinators across 135 sites. We have also provided additional support to landowners and community groups to encourage the creation of further habitat for pollinators, most of which has taken place within our B-Lines network!
With so many sites enhanced, you will be spoilt for choice on meadows to visit!  Here are some sites for you to look for:
Fife
If you feel like a visit to Fife, several areas within Silver Sands in Aberdour were enhanced with the sowing of woodland seed mix and a coastal seed mix through the Fife's Buzzing project.
Edinburgh
Wildflower meadows might not be the first thing you think of when visiting Edinburgh but there are some lovely sites including a small wildflower meadow on Leamington Walk which was enhanced through our Central Scotland B-lines (CS B-lines) project. If you're into golf make sure to check out the meadows at Bruntsfield Links Golf Course!
West Lothian
West Lothian has a great offering of sites which were created through the West Lothian B-Lines project, including Almondvale Park in Livingston. If you're visiting the ancient burgh of Linlithgow why not stop by Rosemount Park – a great spot to stop for a picnic whilst watching the bees buzz about.
Bo'ness
A walk along the John Muir Way through Bo'ness may involve passing through Grangepans Meadow. Previously amenity grassland cut throughout the year, this large meadow area, over 1 hectare in size is home to a range of wildflowers and pollinators. You may even be lucky to see Kestrels hunting in the long grass!
Falkirk
We've worked closely with Falkirk Council to create wildflower meadows through several projects including Falkirk Pollinator Way, John Muir Pollinator Way (JMPW) and CS B-lines. Meadows which are fantastic for spotting invertebrates include Princes Park, Summerfield Park, Camelon Public Park and Stirling Road Playing Fields.
Stirling Area
Fallin Bing situated in Fallin just outside of Stirling is highly recommended! This Brownfield site offers amazing views of the Ochil Hills and Stirling, and provides a mosaic of habitats including species-rich grassland. Keep an eye out for Six-spot Burnet Moths (Zygaena filipendulae), Common Blue Butterflies (Polyommatus icarus) and Bumblebees!
East-Dunbartonshire
East Dunbartonshire Council are doing an amazing job managing parks and greenspaces for pollinating Insects. Several meadows have been established through our JMPW and CS B-Lines projects, including Luggie Park in Kirkintilloch and Linden Lea greenspace in Milton of Campsie.
Glasgow
In Glasgow, Hogganfield Park, Linn Park and Kelvingrove Park all benefited through the Glasgow's Buzzing project. Completed in 2014 this project benefitted 13 parks across the City of Glasgow and these areas and more are still being managed for insect pollinators and for the benefit of other wildlife.
South Lanarkshire
Lanark Loch Pitch and Putt and Lanark Moor Country Park are just a couple of the sites where meadows were created through our CS B-lines project. These sites have a lot to offer to both people and pollinators. Why not combine your recreational activities with a bug hunt?
There are plenty of areas to visit this National Meadows Day and throughout the summer. Whilst visiting a meadow why not carry out a Flower Insect Timed (FIT) Count as part of the UK Pollinator Monitoring Scheme. Spend ten minutes watching flowers and learning how to identify different groups of insects. Find out more and how to take part through the UKPoMs website: Welcome to the UK Pollinator Monitoring Scheme (PoMS) | PoMS (ukpoms.org.uk)
---
Here's a short film from The Scottish Rewilding Alliance filmed on the John Muir Pollinator Way