National Marine Week is The Wildlife Trusts' nationwide celebration of all things marine. Despite the name, it lasts 15 fun-filled days to allow for the variation in tide times around the UK.  Whilst many will be focussing on marine megafauna (whales, dolphins, seals etc) why not celebrate with Buglife by learning about our amazing ocean invertebrates.  They really are the small things that run the planet!
---
…guest blog from Lauren Brenton-Crabb, Marine Conservation Apprentice at Cornwall Wildlife Trust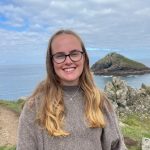 Being part of the Cornwall Wildlife Trust is always full of exciting opportunities to get out and about learning about different species found in Cornwall. As I am part of the marine team, I thought it would be only fitting to talk about some marine critters! Shoresearch Cornwall is one of Cornwall Wildlife Trust's projects which is a user-friendly and fun method of exploring the shore and recording all the fascinating species found there. Shoresearch Cornwall is run by Marine Conservation Officer, Matt Slater and several trained volunteers. They use different survey methods including timed species searches, walkover surveys and biotope transect surveys to record species and position biological zones. Once trained, Shoresearchers are encouraged to carry out their own surveys to help gather as much data as possible, which helps us to monitor change on the shore and provides evidence for areas being considered as Marine Conservation Zones. All of the collected data is submitted to and made available from the Environmental Record Centre for Cornwall and the Isles of Scilly (ERCCIS). Find out more about Shoresearch Cornwall and how you can get involved here: https://www.cornwallwildlifetrust.org.uk/what-we-do/our-conservation-work/at-sea/shoresearch.
The Shoresearch team have found and photographed some amazing marine invertebrates out on the shore in Cornwall. Marine invertebrates are animals that do not have a backbone or vertebral column, although many do have hard outer shells to provide structure and support to the body. The most familiar marine invertebrates are crabs, corals, jellyfish, anemones and sea squirts, which can all be found along the Cornish coastline.
Many species of crab have been recorded by the Shoresearch team, with one of the most iconic species being the St Piran's Hermit Crab (Clibanarius erythropus). This species has only recently made a return to the UK shoreline after disappearing in the late 1980s. St Piran's Hermit Crab will often use a variety of empty sea snail shells to make their home, including Flat Periwinkle (Littorina obtusata) and Dog Whelks (Nucella lapillus). They are much shyer than the Common Hermit Crab (Pagurus bernhardus) and will often hunker down inside their shell until danger has passed, but when they do make an appearance, it is definitely worth the wait! They have bright red antennae, and a greyish back (carapace), dark brown and hairy claws and lovely long eye stalks, with striking black and white eyes.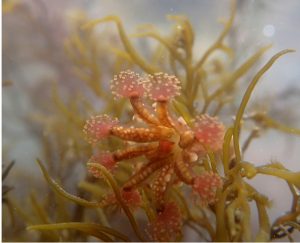 Another example of a species commonly found by the Shoresearch team is the Stalked Jellyfish (Calvadosia campanulata). Stalked Jellyfish differ to other jellyfish species because they remain stationary for their entire lives attached to seaweed or seagrass, unlike other jellyfish which drift along with ocean currents and tides. Their tentacles are also at the top of their body instead of below, which is a clear distinguishing feature from other jellyfish species. These jellyfish can grow up to 5cm in size and due to being so small, they are often overlooked, but can regularly be spotted in shallow rockpools and tidal zones.
Snakelocks Anemone (Anemonia viridis) are another amazing species that the shoresearchers see a lot of along our coastline. The Snakelocks Anemone of course gets its name from its long, snake-like tentacles, which you often see swaying in the water. Its body is a pale grey/brown colour, with bright green tentacles and purple tips which are home to a type of algae that produces energy from sunlight. These anemones live attached to rocks on the low shore and are often found in the sunniest pools which is why many of them are such a fluorescent green colour! Unlike other anemones, they don't retract their tentacles if stranded and instead their tentacles lay flat, which can cause them to dry up. To avoid this happening, they tend to live further down the shore in deeper rockpools.
Star Ascidian (Botryllus schlosseri) is another species we see a lot of in Cornwall, which is one of the most striking species to be found on the rocky shore! They resemble a collection of pressed flowers or stars but are in fact a colony of tiny individual animals! Star Ascidians are colonies of sea squirts, and it takes around 3-12 individuals to create the star shaped patterns found on the underside of rocks in rockpools. They have a dark and flat structure, with the star shaped pattern randomly dotted across the patch of rock the colony is covering.
Remember to follow the seashore code when out rockpooling and leave everything as you found it.
Cornwall Wildlife Trust will be taking part in the National Marine Week (30th July to 7th August) which is The Wildlife Trust's annual celebration of our seas.
Wherever you are in Cornwall, you can find an event near you and spot some incredible marine life here: https://www.cornwallwildlifetrust.org.uk/national-marine-week. There will be a whole range of events happening across the county, hosted by members of the Your Shore Network. The events will include lots of fun rockpool rambles where you can get out on the shore searching for marine critters in rockpools near you!